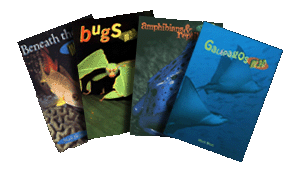 Mark Blum is a 3 -D nature photographer and writer who specializes in the stereophotography of wildlife subjects. He is best known for his pioneering work in underwater stereo photography. Over fifteen years of photographing the world's oceans in three dimensions Mark has assembled what is perhaps the most comprehensive library of 3-D marine images in the world. Utilizing numerous custom-built underwater stereo camera systems, he is able to photograph an unprecedented range of subjects. From tiny symbiotic shrimps captured in 2 to 1 macro stereo to swirling schools of predatory barracuda, all subjects are rendered in lifelike depth. These true stereo images are of the highest optical and three dimensional quality, far surpassing 2-D conversions in 3-D effect.
Mark is the author and photographer of four 3-D books on various wildlife subjects, and has contributed his stereo images to two other 3-D books, four CD's and three Viewmaster Reel sets. During 1998, in commemoration of The Year of the Ocean, his 3-D marine images were projected to many thousands of international viewers attending the World's Fair in Lisbon, Portugal. Mark maintains an extensive stock image library that includes macro stereo images of arthropods (insects, spiders etc.), reptiles and amphibians. In addition to his stock photo business, Mark is available for select assignment work. Please e-mail: markb@redshift.com for information regarding assignment work
or stock images.
"Two qualities set Mark Blum apart and make his work stand out--literally--from the crowd: curiosity and passion. He was curious enough about a Stereo Realist camera to buy one at a garage sale without knowing what it could do, and finally became passionate enough about both stereo photography and scuba diving to build his own underwater cameras. He used five custom-designed camera systems for this volume, with lenses spaced from 2mm to 38mm apart, to capture his prey in the waters of Baja California, the Caribbean Islands, and the South Pacific...." -- Amazon.com
Featuring the
best-selling
In 3-D series of stereo nature photography books!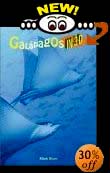 This amazing series of books, with photos taken all over the world, provide a unique look at the extraordinary range and diversity of living subjects
taken in their natural environments, all in beautiful 3D!
Each book in the series comes complete with 3-D lenses innovatively bound into the hardback cover.